VŪ Saunas: luxury sauna cabins.
Connect with your surroundings as you sit in complete peace & tranquility. VŪ Saunas bring you an elevated wellness experience. The spacious cabins are designed to create a therapeutic atmosphere, focusing on slowing down time and immersing yourself in nature.
Our saunas are equipped with state of the art heaters and smart technology. The style and function of the heated indoor change room and the covered outdoor lounge space are elements that are a touch above. VŪ Saunas are ideal for luxury stays, lakeside cottages, and spacious backyards. Create an experience for your guests!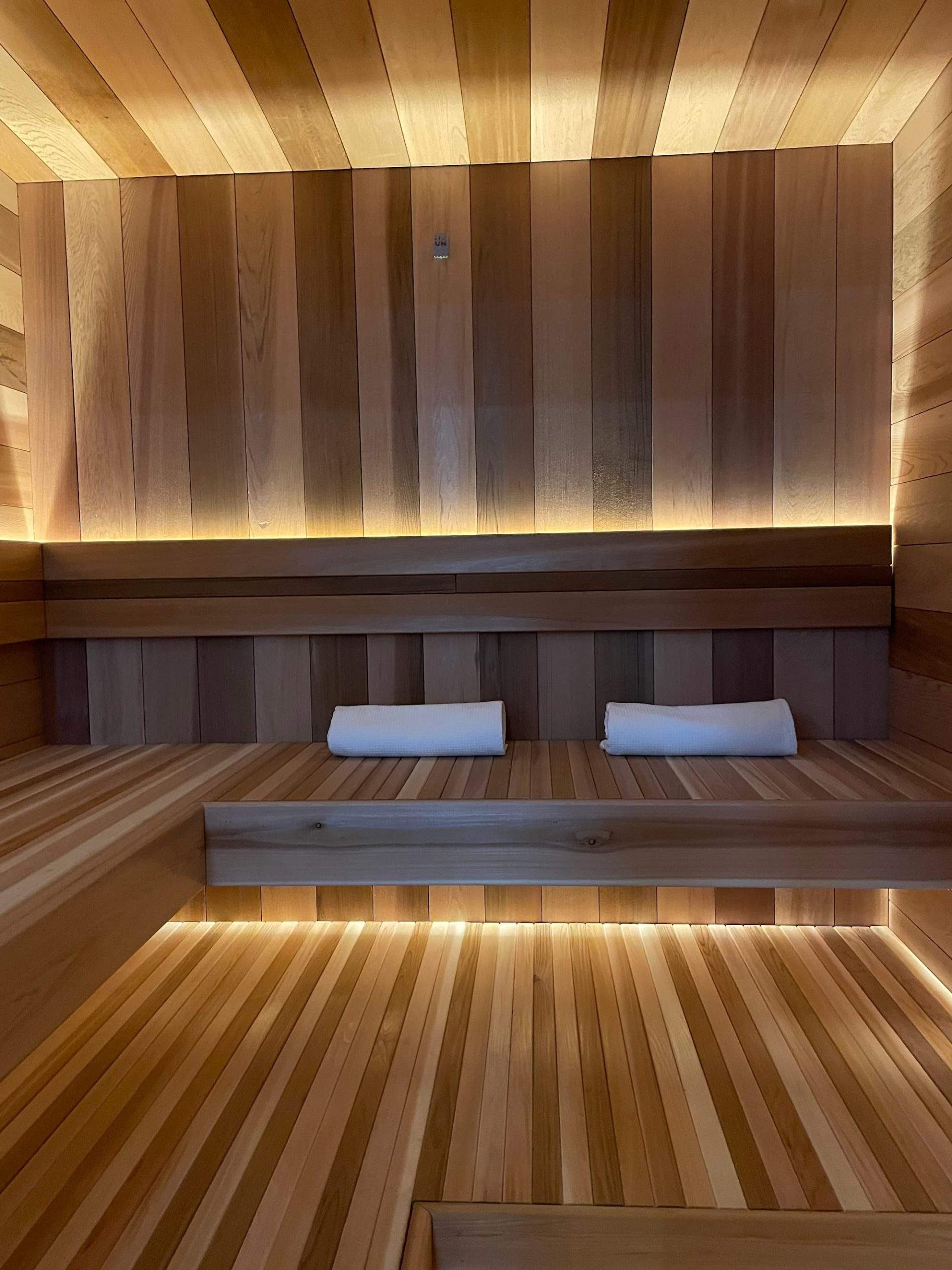 With a modern sleek exterior,
VŪ Saunas adds a touch of Nordic luxury to your outdoor space. The black metal exterior against the natural cedar cedar wood sets the tone for your sauna experience. Two levels of floating wrap around seating provides ample space to lounge and disconnect. Be completely caught up in the moment with the breathtaking window wall, which is designed to offer an unobstructed view of the outdoors.
Our VU 1 Model is our premium sauna cabin. More models are coming soon! Feeling inspired? Ask us about a custom sauna.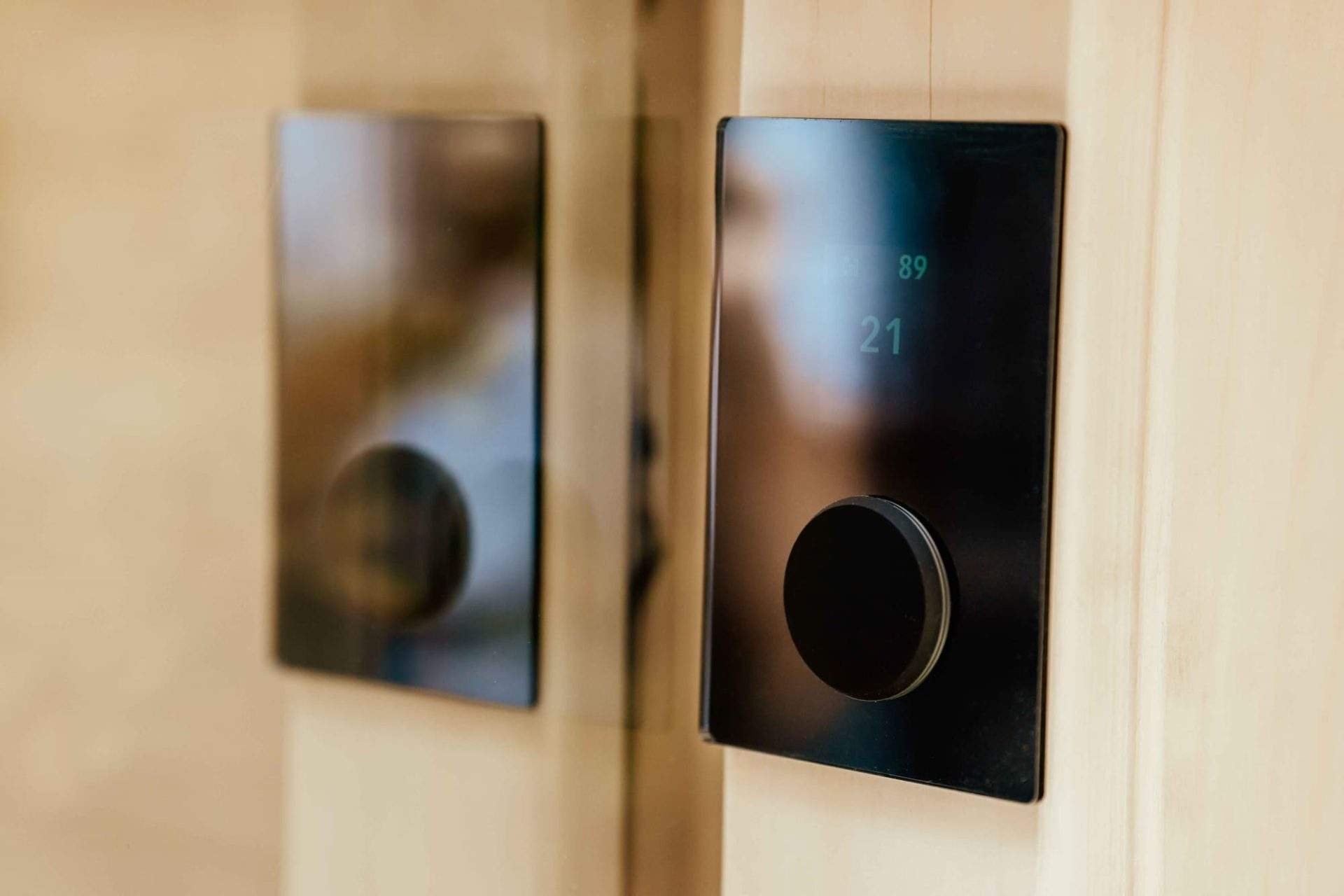 Our made-to-order premium saunas have it all. 
The entire system is controlled by the touch of a button. No more going outside to heat up your sauna. The modern UKU Glass controller makes sauna heating easy and comfortable. From your phone, set the change room heat, fire up the sauna system, and turn on the lights. The LED strip lights tucked behind the benches create soft mood lighting.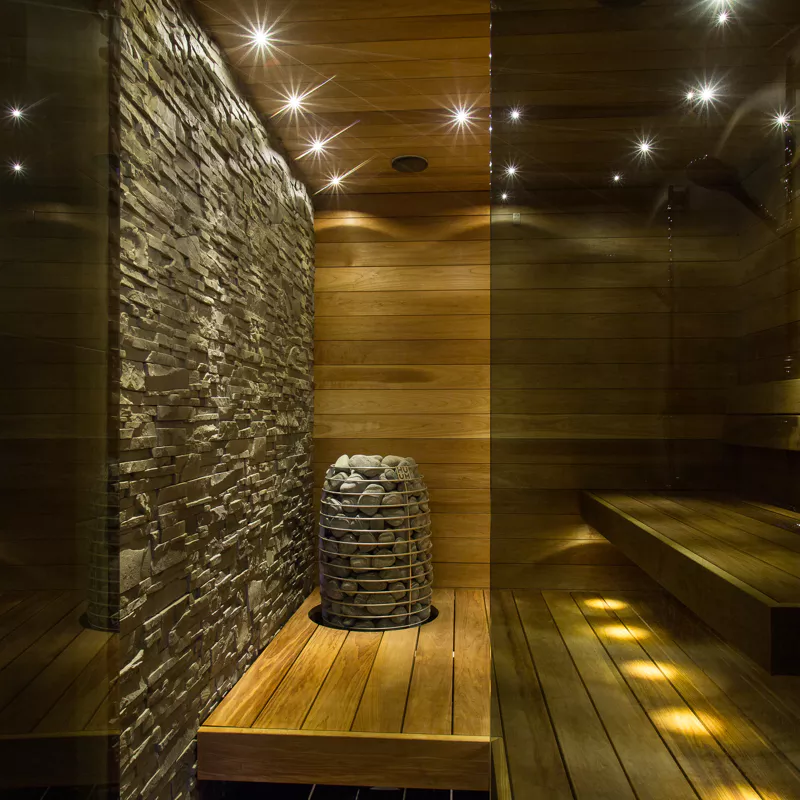 The HUUM electric heater: minimalist & efficient.
Our saunas are equipped with the HIVE 9 kw sauna heater. Made of stainless steel, the heater comes with the air tunnel and 120 kg of stone. The granit stones are a focal point and also provide a mild, long-lasting steam when water is poured onto them.
Installation, Specifications & Delivery
The sauna is a prefabricated product and will arrive assembled.
Prior to delivery on site, the area should be prepped and levelled. We recommend a granular stone base. The sauna should be sitting on 6 concrete blocks.
The customer is responsible to be present at the time of delivery and have the area properly set up, ready for the sauna to be dropped. The customer needs to ensure the ground is levelled. MBH is not responsible for prepping the base. MBH is available to guide customers on the appropriate set up.
MBH offers set-up assistance: Within 250 km of MBH, a member of our team will assist and be present at delivery, and can coordinate the machinery for unloading,  for a fee. The fee is based on distance, and machinery fees if applicable.
Electrical Connection:
The sauna is designed to be ready to plug and play. The customer is responsible for hiring an certified electrician.
Building permit requirement: MBH is not responsible for obtaining permits, if needed. Customers must do their due diligence with their township and city bilaws.

Your sauna experience begins here!
Complete this form for purchasing information and estimated delivery date. We do not take payment on this form. We will be in contact with you for next steps and to answer any questions you may have.